SUCCESS STORIES
Love Your Numbers
Leanne Berry's journey to a new Love Your Numbers website starts some years ago. Back when social media was in its infancy, Leanne took three months out of her past business to learn about social media, websites, WordPress, hosting and website management.
"For as many years as I can remember I have built my own websites. My philosophy is if I advise clients on something then I need to know how to do it myself." Leanne said.
Since Leanne built all her past websites, she knew a lot about how they should be run and maintained. "But it became such a burden, the site was starting to look old and I hadn't been able to keep up with all the changes." Leanne told us.
So when MYOB started recommending Bizink a few years ago, Leanne took a closer look.
"I knew I needed to get my blog revitalised because it had become too hard and I was too busy to keep it going. I signed up for Bizink's Business Booster Blogs, now called the Content Pack which have so many great blogs to choose from." Leanne said.
"I was using the blogs to keep that updated but I still wasn't happy with my site overall. So I bit the bullet, I had a chat to Matt and got it going!"
Leanne has high praise for Kamila Viskupova, Bizink's website production manager and Head of Customer Success. "Kamila knew exactly what I wanted and she presented me a final product which was just perfect. It was actually beyond what I could have thought of myself."
The positive reviews continue, this time for Bizink's Support team. "Nothing is too hard for them and I've had some difficult questions sometimes! The response time is within a day, but generally within an hour. That's just fantastic because for support these days you often have to sit and wait for a reply."
"Bizink wants to make sure that I get the service I want and it's all done with smiles and happiness. Yeah, you might be paying a good price for but in my opinion you're actually getting more than what you pay for with Bizink!"
Love Your Numbers are also using Bizink's Marketing Services to boost their marketing, and have seen some great results already.
"The 90 day rolling marketing plan Bizink created with me is great. It's about picking a theme and running with it for the three months, so we get three months of consistent value." Leanne explained. "Our social media engagement is just going through the roof, and it's all organic! Post engagements for the week of 27th Sept – 3rd Oct were up 3700%." she added.
Leanne attributes these fantastic results to Bizink's marketing support. "It's because of the help Bizink provides with the consistency of with the blogs and theme that's going out now." she said. "The beauty of it all, the secret sauce is that it takes me no time at all. Given that our industry is so busy, we're solo operators who have to make money to survive, you can't afford to spend too much time on this sort of thing. Isn't it worthwhile to pay a bit of money to get it?"
"Everything is automated which is fantastic. Bizink writes four blogs a month that turn into a newsletter, it's just so great. It's hands off but it's regular, consistent and meets the values and the themes I want to promote. Now I've got email marketing campaigns going out, a regular newsletter that I hadn't had before and a weekly blog post that goes out far and wide across Australia and New Zealand." Leanne told us.
(more text after image)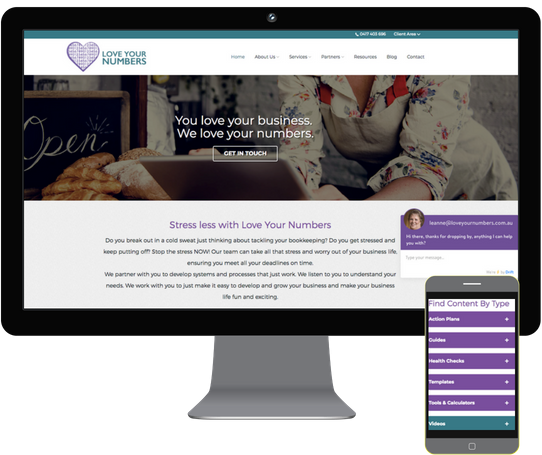 When we asked Leanne for one key successful outcome that Bizink has helped her achieve, she replied "Consistency. It's the same message going across multiple platforms, automatically posts there and I don't have to think about it."
"I would ABSOLUTELY without a doubt recommend Bizink. The team is fantastic, they understand the industry (which is actually really important), the content they have is awesome and did I mention the team is fabulous?"
Leanne finished with "Do yourself a favour and switch to Bizink!"
WANT MARKETING TIPS DELIVERED TO YOUR INBOX?
Ready to start your own success story wih bizink?
Talk to us