SUCCESS STORIES
The Accounting Hub
While working at a large Auckland chartered accounting practice back in 2011, Andrew Millington was given the task of reviewing new accounting software. It was an eye-opening experience seeing the possibilities that were opening up with Xero and the cloud. Within a year Andrew started his own accounting business, The Accounting Hub, focused on using the latest technology to help clients achieve success.
"We had a couple of websites before we moved to Bizink, but they weren't mobile friendly," Andrew said. "We are pitching to clients that we are up to speed with technology, so we needed to have a website that reflects that." Andrew says.
"We went with Bizink because they're specialists, they understand our marketplace. We didn't need to explain what it means to be a Xero Gold Partner and why we wanted that on our website."
"The initial website build was really easy. We had content from our old site so Bizink just picked that up and fitted it into the new template."
Bizink also offers existing website clients a design upgrade, free of charge. "We recently had a website design upgrade which was really good. We wanted our testimonials to be the focus so they are now the feature of the home page. It was a smooth process and it looks really good!" says Andrew.
(more text below image)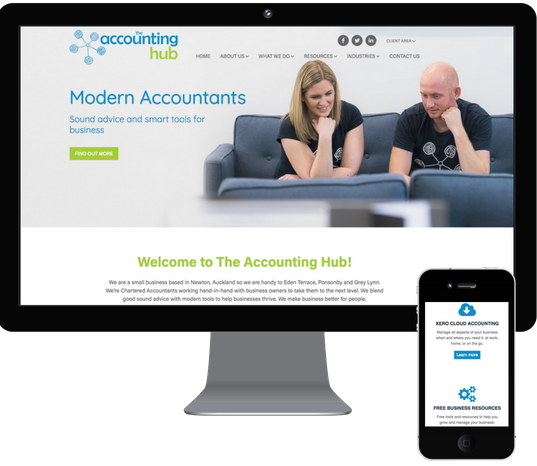 Andrew and The Accounting Hub team love technology and use various tools and integrations to boost their website further. "We integrated the website with our Calendly booking which went in seamlessly," Andrew explained. "It means you don't have to have that long back and forth about people's life commitments. Now it's just, here's a link, find a time that suits you. It works well."
Looking back over their time with Bizink, Andrew details the great results Bizink has helped them achieve. "We've doubled our turnover since switching to Bizink 4 years ago. Our website has been an important part of that growth."
Andrew describes his Bizink experience as positive. "I would absolutely recommend Bizink to other accounting firms, because of their understanding of the marketplace and how we work."
WANT MARKETING TIPS DELIVERED TO YOUR INBOX?
Ready to start your own success story wih bizink?
Talk to us