SUCCESS STORIES
Websites and Marketing for Xero Partners
Bizink helps Xero Partners boost their marketing.
The most successful Xero Partners have websites that deliver regular new clients. We know because we've built plenty of them. Firms like
The Accounting Hub
, Xero Gold Partners based in Auckland, choose Bizink for their website. Want a high-performing website just like theirs? We can help with that. Bizink is a Xero Modern Practice Partner. So we've got what you need to promote your Xero Partnership online. As specialists in websites for Xero Partners, we've packed our websites with Xero features, content and tools to help you attract, engage and convert small business owners including:
Xero Partner badges to display your expertise
Xero landing pages
Xero resources with videos from Xero TV
Official Xero content and tools
Xero lead magnet
Xero Partner Banner
Xero login in Client Area
Xero SEO page
We also have landing pages and resources for popular ecosystem apps and add ons including Receipt Bank, Hubdoc, Vend and ServiceM8 that you can use on the site. We'll also give you a mobile-friendly website, packed with modern marketing tools. And we write newsletters and blog posts for you, taking the time and effort out of your marketing. Bizink websites also integrate with Practice Ignition so you can add fixed price packages and take payments from your site. No matter what your Xero Partnership level, we can create a website that will help you attract, engage and convert business owners. And in case you're not convinced, here's what Andrew of The Accounting Hub recently told us: "We went with Bizink because they're specialists, they understand our marketplace. We didn't need to explain what it means to be a Xero Gold Partner and why we wanted that on our website."
Book a one-on-one demo with our website experts
to find out how we can help you promote your practice. [caption id="attachment_8570" align="aligncenter" width="537"]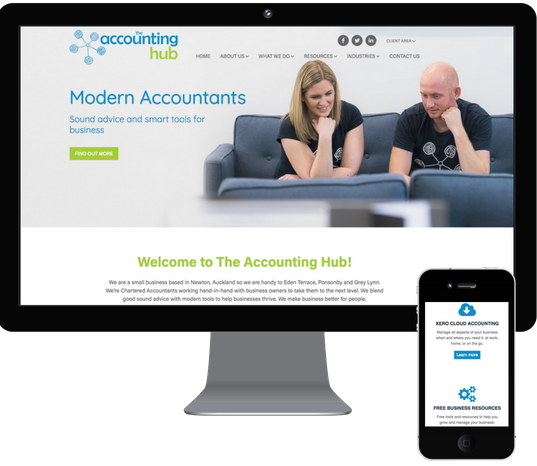 The Accounting Hub, Gold Partners in Auckland[/caption]
Ready to start your own success story wih bizink?
Talk to us